Page 1
,
Page 2
,
Page 3
,
Page 4
Transportation from Passau to Prague hotel Pachtuv Palace. River cruises transfer for Mary and her friends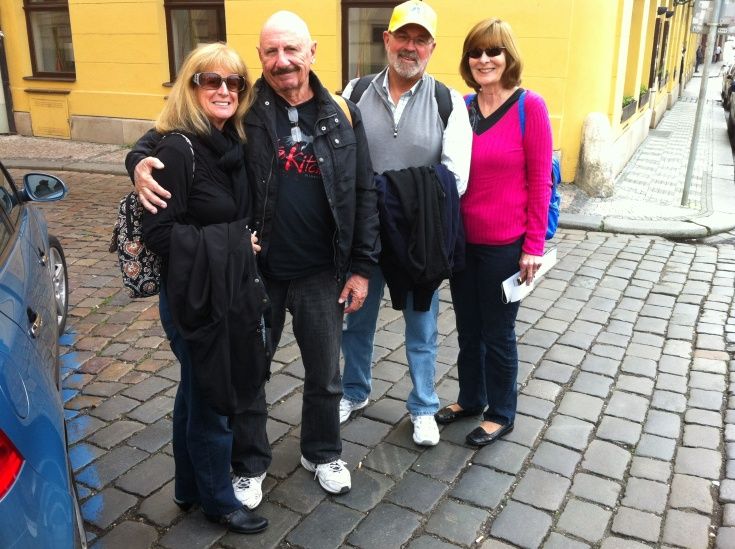 Rating: out of 5
Transportation from Augustine hotel Prague to Nuremberg river cruises docks - Richard and his friends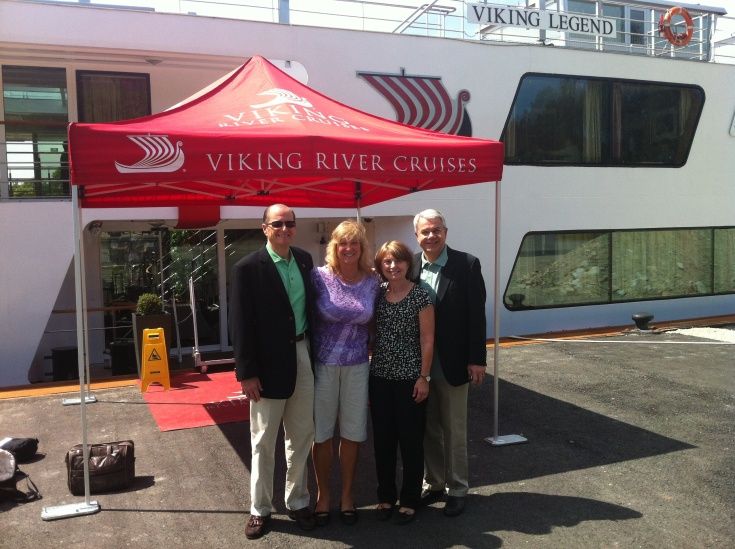 Rating: out of 5
Transportation for a family of 7 persons: Munich to Zell am See, Zell am See to Karlovy Vary and Karlovy Vary to Prague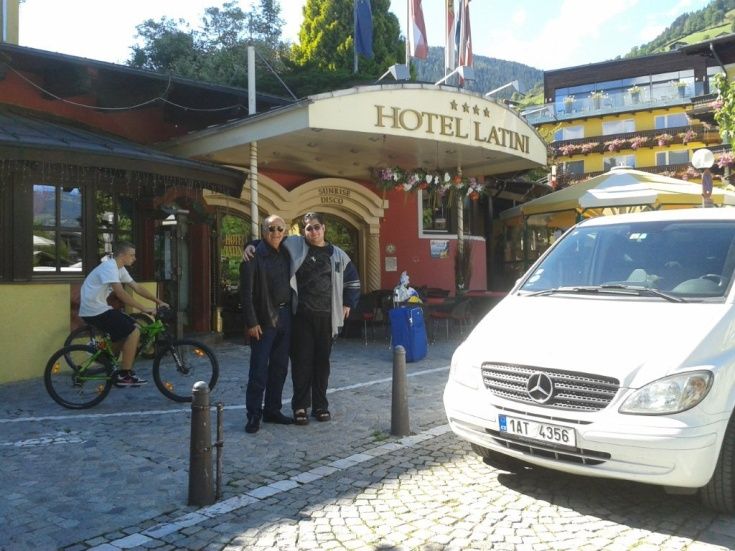 Rating: out of 5
Transfer from Salzburg to Wattens, Innsbruck and Zurich for a cheerful family from India.
Do not say: "cheese", say: "Joooooooohn"!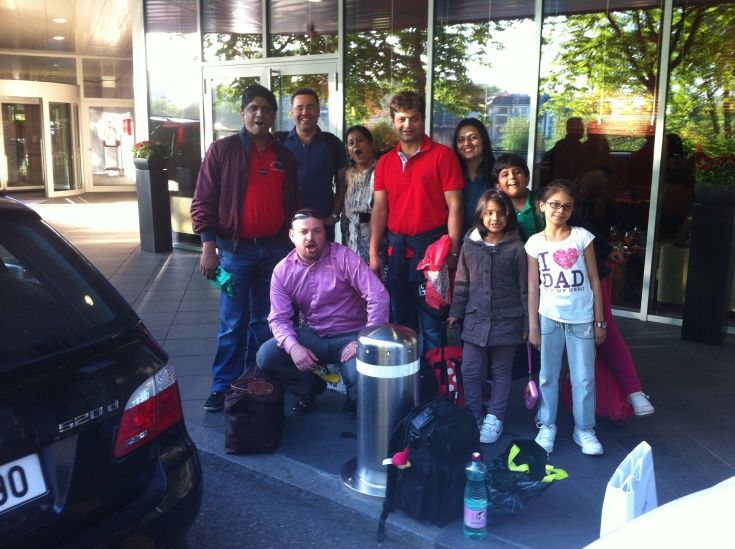 Rating: out of 5
Transfer from Munich to Prague and two days later from Prague to Cesky Krumlov. Another happy group from Malaysia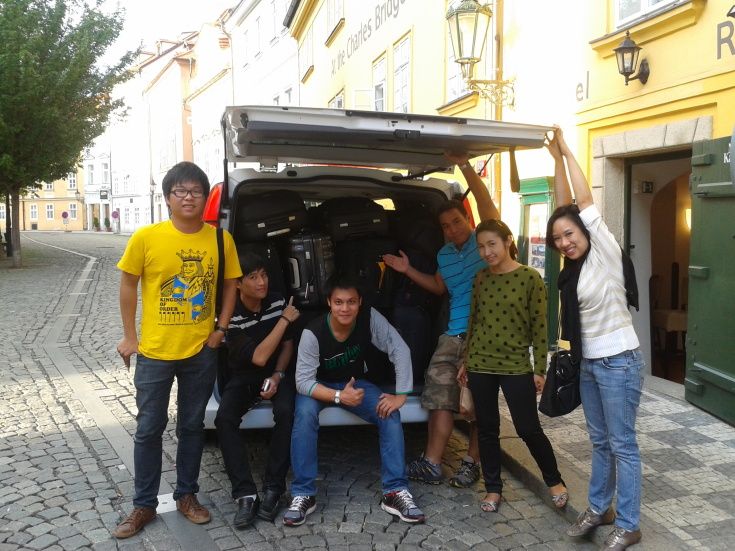 Rating: out of 5
Two minivans private hire; tour across European countries and cities.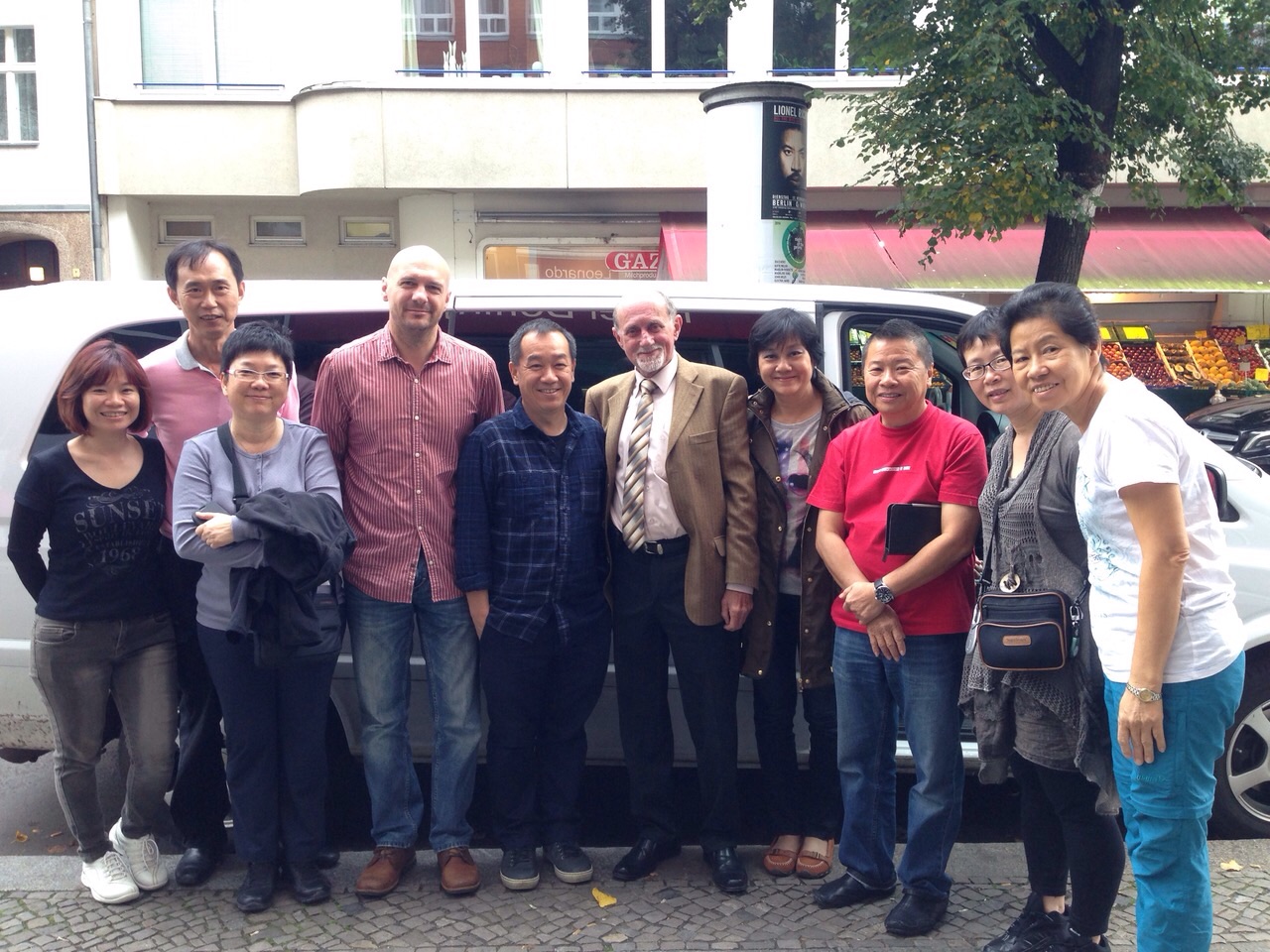 Taxi review part I
Our "Heartfelt Thanks" to Martin, European Transfer and the Drivers (Pert Taraba & Mirek Skoda, standing from left 4 & 6 respectively) for giving us a Wonderful Private Eastern Europe Holiday for 14 Pax. Transfer between cities, hotels and airport were perfectly executed by the Drivers throughout our Eastern Europe vacation: Budapest, Szentendre, Estergom, Ljubljana, Lake Bled, Zell Am See, Hallstatt, Salzburg, Mondsee, Vienna, Praque, Cesky Krumlov, Dresden & Berlin.
We were able to communicate well with the English speaking driver. The Drivers discussed and planned our daily program, provided us maps, gave us good advised and accommodated all our requests, even some places were not in our original plan. e also shared with the Drivers the "Sound of Music sight seeing experience in Salzburg", this will enable them to provide better services to future customers. We were delighted when Pert Taraba acted as our tour guide in Prague, as it's his hometown and brought us to capture the "Best of Prague". Both the Drivers were very professional, prompt, courteous and keep the Mercedes Vans very clean. The seats were very comfortable and they provide toilet stops in between transfer, thus with their excellent services, we really enjoyed our Holiday.
Highly recommend "Martin's European Transfers" as they can provide professional/personalize service/recommendation to give you a "Very Memorable Holiday".
- Alvin Wan & Group from Malaysia, Singapore & United Kingdom
Sightseeing taxi from Prague Marriott Hotel to Vilshofen AMA Waterways river cruise via Cesky Krumlov and Holasovice.
Thank you!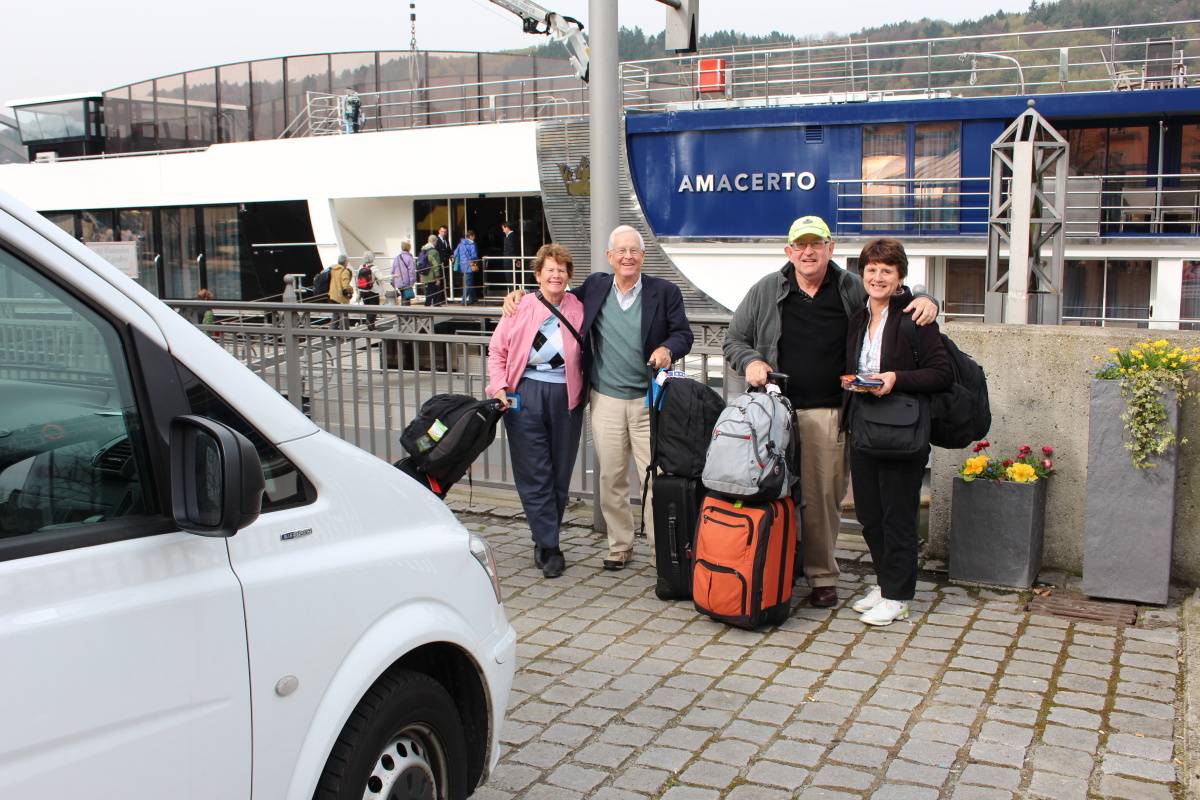 Rating: out of 5
Berlin to Prague taxi
Dear Martin, I am just writing to let you know that our trip from Berlin to Prague was perfect. Mirek was a very good driver and a nice person. See you next time
Antonio Lastra
Prague guided tour and airport transfer
Martin, Thank you very much for your assistance in locating such a wonderful guide for us in Prague. We thought Linda was exceptional. The driver was also right on time and we appreciated him as well. Best regards,
Barbara Zachry
Taxi from Budapest to Krakow, Krakow to Prague and Prague to Frankfurt am Main
Hello Martin, I wish to write and thank you for the service you provided to us from Budapest to Kracow, Kracow to Prague and Prague to Frankfurt. And to let you know I will be recommending your services to my friends as well as the couple of Travel Agencies we deal with. Your vehicles were immaculate, you were punctual, your drivers capable with excellent English and very courteous. I wish your company every success. Best wishes.
Arthur Tuckett
Taxi from Prague to Wroclaw
Hi Martin, we arrived safely in Wroclaw (PL) today from Prague. (I called you last night to get a last minute taxi). I just wanted to let you I am impressed with the service you offer. Great car (Mercedes ML320), great driver (James) , punctual , very safe and cautious driving, a pleasant journey. Fair price. Thanks. I will definitely be using your company again. Feel free to put this on yr website as testimonial. Thanks and Best Regards
Frank Oosterbaan
Taxi from Prague to Zelezna Ruda and return
Dear Marin, we arrived back home and are already in the office, at work, but I would like to thank you for your help and guiding. Patrick is an excellent driver, we felt safe in his car, his timing was perfect, the travels lasted exactly as he said and everything went smoothly. Thank you for your great transportation services.
Liliana Ivancenco
Private hire of two minivans; trip across Europe.
Taxi review part II
Dear Mr Martin Stich, I was part of the Eastern Europe tour group organised by Mr Alvin Wan and made possible by your drivers, Mr Miroslav Skoda and Mr Pert Taraba. Mr Alvin Wan has previously written to you about the wonderful service given to us by the two gentlemen, but I felt the need to provide my sincere gratitude and feedback as well.
Throughout our journey from Budapest all the way to Berlin, the two gentlemen were nothing short of attentive and caring towards our needs. At the same time, the two gentlemen were able to accommodate our various requests, even if they were technically beyond their obligations and duties to us. Even when the two gentlemen faced difficulties in cities they themselves were unfamiliar with, we could see every bit of effort they put in to make our trip a wonderful one.
Miro and Pert were truly professional and courteous to us at all times, and throughout our journey, we forged an unforgettable friendship.
Once again, I thank your agency and our dear friends Miro and Pert for having made this amazing holiday possible. Please pass my heartfelt thanks to the two gentlemen, and I look forward to embarking on another journey with them in the near future. Sincerely,
- Kenneth
Transfer from Berlin to Dresden via Colditz castle prison; private tour in Dresden and Gorlitz
Hi Dear Martin, Just want to say thank you so very much for making the huge effort to drive us from Berlin to Dresden. We understand what an exhausting time it must have been for you but it meant everything to have you drive. Your new car is THE BEST but then you are the BEST DRIVER one could possibly dream of. I showed your photo to Elaine and she sends you her regards with great memories of our lunch in Cesky Krumlov a few years ago.
Your recommendation of Gunther Kieb in Dresden was absolutely superb. He had done much research into Derek's family and was able to take us to the villa where grandmother lived in 1901! Once there he produced a bottle of champagne, champagne glasses and we toasted the event in the middle of the morning in the street.
How cool and thoughtful was that!! He also had researched the train stations that Derek's great grand father designed and also took us there and they were magnificent. We drove down to Gorlitz which is the most stunning small town and well worth a visit. All in all it was a fantastic day thanks to your recommendation. Noone could have done more to help us and went to much effort with the research through his contacts. It was a marvellous day. We had such a great time in Germany!
Martin, a thousand thanks for your wonderful help. It was a joy to see you again and I just know we shall meet again. Kind regards
- Sallie
Passau port pick up, transfer to Prague hotel, taxi to the Prague airport
Hi Martin, back home in New Zealand now. I just wanted to thank you for your excellent service. Courteous staff, on time and good drivers. I will recommend you to anyone travelling in your area. You should contact the MY STORY boat and let them know you are available! The cruise director Leslie was interested to get your card, I gave him your website. Best for your future and you should do well. Regards
- Ken
Rating: out of 5
Six days private hire across European cities: Prague, Budapest, Krakow, Cesky Krumlov, Vienna
Hello Martin, we are back to Dubai with very fond memories of our trip. In Marak you have an excellent human being. He looked after us very well and made sure we had a good time throughout the six days. Please convey our sincere thanks to Marek. We will have no hesitation in recommending your name to any of our friends who would like to visit that part of the world. With Regards
- Ashok
Rating: out of 5
One way taxi from Passau to Prague with a sightseeing stop in Cesky Krumlov; later we provided the Prague airport taxi.
Martin, Judy and I thank you for the wonderful service you arranged for us on Sunday. Patrick was a great driver and a nice guy. His van was clean and comfortable and he was very thoughtful about our comfort and needs. He arrived at the dock in Passau as expected and the trip was very pleasant through the countryside. At Cesky Krumlov we were charmed by 'Ollie'. Ollie is a very cheerful, knowledgeable, and interesting person. We had an enjoyable lunch with her and spent the afternoon walking the streets of CK with her. She was a treat. Just f.y.i. we met a couple from Ottawa in Canada and we recommended your services to them. I hope they have contacted you. We gave them Patrick's phone number as we didn't have your contact information with us when we met them. We send our best regards to you, Patrick, and 'Ollie'. Thank you.
- Gerry and Judy McMunn
Rating: out of 5
One way taxi from Prague to Cesky Krumlov and transfer from Cesky Krumlov to Vienna
Dear Martin, Just a quick note to say thank you for the car services to Cesky Krumlov and Vienna. The drivers were great and everything went well. Kind regards
- Christopher
Rating: out of 5
Taxi from Vilshofen to Prague and airport transfer from the Pachtuv Palace hotel
Dear Martin, thank you so much for providing us with outstanding transfers during our time in the Czech republic. Patrick was delightful during our drive from Vilshofen to Cesky Krumlov and on to Prague. We felt safe and well cared for. Also Mervic (?) (Mirek - note from Martin) arrived on time at 4 am and was so nice during our early morning transfer to the airport. You helped make our trip wonderful. And yes, the Pachtuv Palace Hotel was lovely!! Respectfully
- Suzanne T.
Rating: out of 5
Taxi from Vienna to Salzburg, transportation from Salzburg to Prague
Martin, I wish to thank you and your team for the very valuable services provided. Special thanks for Mr Mirek Skoda and Mr Patrick for making us very comfortable during the entire trip. Will surely recommend someone who is visiting Czech to opt for your services. I have your Email ID and number. Thanks once again.
K Ramesh - India

Rating: out of 5
Taxi from Frankfurt to Cesky Krumlov, trip from Cesky Krumlov to Prague and transfer from Prague to Vienna
Hi Martin, thank you for the comfortable car transfers from Frankfurt - Cesky Krumlov - Prague - Vienna. Patrik picked up on time and was very friendly. My friend and I was very happy and had a good time in Europe. We hope to see you again in next time. Please say Hi to Patrik too. Thank you & best regards -
Kraisiri and friends - Thailand

Rating: out of 5
Taxi from Passau to Prague
Hi, I just wanted to thank you for the excellent service you and your company provided us while on our recent visit to Prague. If we are ever back your way, we will certainly call on you, and in the meantime, will highly recommend your taxi service. Visit us in Mississippi sometime! Best
- Rosemary and Charles G.

Rating: out of 5
Taxi from Salzburg to Prague
Dear Martin, a small note to thank you for all your assistance with the arrangements of the taxi service from Salzuburg to Prague. It was a pleasure to drive with Patrick. He was a thorough gentleman with the most professional, punctual and friendly attitude. Please convey our very special thanks to Patrick. Once again thank you for all your help and will certainly recommend your company and services to friends. Best regards
- Mr. & Mrs B.

Rating: out of 5
Return transportation between Prague and Cesky Krumlov
We had a wonderful experience with Patrik as our driver. He was really considerate and extremely professional. On both trips we were on time and relaxed. Would definitely make use and recommend this service again and again. Thanks and Regards.
- Kris H.

Rating: out of 5
Transfer from Vilshofen to Prague
Thank you, you have been a great service and price with nice and friendly driver Marek. I will definitely recommend to my friends and use you for future travel to Prague. Regards
- Jon

Rating: out of 5
Transfer from Prague to Jelenia Gora
Thank you for the great service. We had train tickets from Prague to Jelenia Gora. After a long train ride (8 hrs) we booked the shuttle to Jelenia Gora. We were delivered right to the door. Thanks
RonT. and family - Canada

Rating: out of 5
Return trip from Prague to Jelenia Gora
Dear Martin! I want to thank you for everything, because for us (Hungarian students) it was really convenient to use your service with a really friendly price-range and we were lucky to find your company. The driver (Patric) was excessively polite and helpful on both trips. I wish you the best. Regards,
Farkas Adam Budapest, Hungary

Rating: out of 5
Transfer from Prague hotel to the River Cruise Beatrice Passau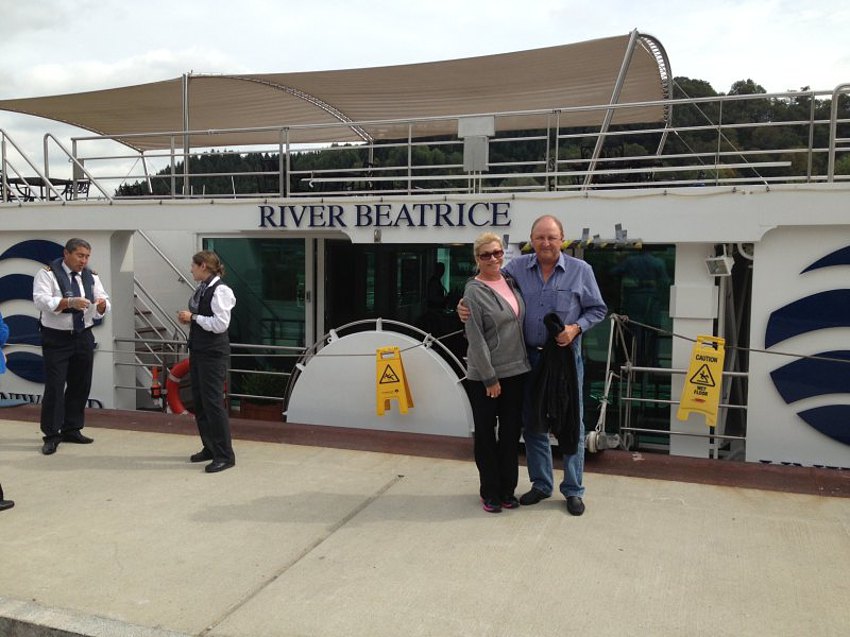 Rating: out of 5
Transportation from Budapest to Vienna, Vienna to Salzburg via Eagle's nest, Salzburg to Prague via Cesky Krumlov and Prague to Krakow via Auschwitz
hi martin! just want to say thank you for the efficient car service provided to us in our EU trip. Also I would like to check if james got back in prague safely yesterday? we were quite delayed in our travel from prague to auschwitz so we got into krakow almost 730pm. Thanks!


Aimee

Rating: out of 5
Transportation arrangements for group of 12 passengers from New Zeland
Hi Martin, I would like to thank you and your drivers for three excellent transfers we received for our group. We were a group of independent senior travelers from New Zealand doing a tour from Budapest to Vienna and from there to Prague and finally from Prague to Passau. Your transfers from hotel to hotel for a group that numbered thirteen at one point was everything that we had hoped for. Your drivers allowed for a few stops that broke the two longest trips. We enjoyed our side trip to Konopiste Castle and to Cesky Krumlov. Both were places we would never have been able to visit if we had travelled by train or bus. The vans were very comfortable for all of our journeys. If we ever make another trip to your part of the world I would certainly use you service again and have no hesitation in recommending your company to other travelers. Regards


Catherine Stella

Rating: out of 5
Taxi from the Prague airport to Tabor and then from Roztoky to the Prague airport
Martin, we are grateful to you for your taxis to Tabor and from Roztocky. We appreciate your clear communication, your cheerful and careful drivers, your excellent and well maintained vehicles, your punctuality, and your complete honesty. When or if we next come to Prague we will certainly ask you to help us again. Many Thanks! Kind Regards


Professor Anton Edwards FInstP, Caputh, Scotland

Rating: out of 5
Transfers from the Prague airport to Tabor and then from Roztoky to the Prague airport
Hi Martin, that was a superb ride with Patrik. Many thanks


Ian & Briar

Rating: out of 5
Transportation from Seifhennersdorf to Prague and return
Dear Martin! Thank you for your good arangement of our taxi-transfer from Seifhennersdorf to Prague.It was very okay,the driver was kindly. Best greetings


Margitta and friends

Rating: out of 5
Transportation from Prague to Karlovy Vary by a minibus, scenic drive from Karlovy Vary to Nuremberg via Plzen
Dear Martin, just a note to thank you for the wonderful service your company provided, John is indeed a very good driver, very nice gentleman, he made our traveling easy and fun, even though we had a cold and were coughing all the time. For sure we will recommend your services to all of our friends and colleagues. If we ever go that way of the world in the future we will be contacting you for sure. Thanks again!! Best regards,


Carlos F. Romero

Rating: out of 5
Transportation between Prague and Berlin, day trip from Prague to Karlovy Vary via Zbiroh, Karlstejn and Pilsen
Dear Martin, thank you very much. Everything was fine. Now we arrived in Helsinki and going to Russia. Hope, I or my friends see You and your excellent drivers in future. Special thanks to driver Patrik!


Maxim Sobolev

Rating: out of 5
Transportation from Prague to Wachau
Dear Martin, Thank you for the excellent service you provided to us. Mirek was great and we all enjoyed the drive. Happy New Year to all of you. Best regards.


Dr. Maged Hussein

Rating: out of 5
Transportation from the Prague airport to the hotel Praga 1; Taxi from the Praga 1 hotel to Strakonice; Transfer from Strakonice Hotel Bavor to the Prague airport
Hi Martin, I just wanna thank you and congratulate you for the wonderful service you have. Thanks for everything.


Luis Miranda


Dura Automotive Systems
Quality Engineer
Rating: out of 5
Taxi from the Prague airport to Tabor and return the next day to the Prague airport
Hi Martin, a quick note to thank you for the excellent service - John I think - was my driver's name - all worked out perfectly. If I'm back on business, I'll be in touch. Regards

Rocky

Rating: out of 5
Two minivans transfer from Prague to Nurnberg with a stop for lunch in Pilsen Brewery Spilka Restaurant for Chris and his group of 11 persons
Hi Martin, just a note to thank you for the great Nurnberg transportation service. Patrick and his fellow driver were very professional. Many thanks. Chris & Robyn

Rating: out of 5
< itemprop="itemReviewed">
Minivan transportation from Prague to Salzburg for 6 persons provided for Laura
Hello Martin, I just wanted to say thank you very much, your service was wonderful. Patrick is a nice guy, I loved the way he drove. I will make time after my trip ends to post a review for you in trip advisor or your Facebook page!! thanks again!Laura
Rating: out of 5
Transportation from the Passau river cruise (Beatrice Uniworld Ship) to Prague with a stop in Cesky Krumlov for short sightseeing and lunch
Martin, just wanted to drop you a line and tell you what a pleasure it was to meet you and thank you again for giving my Kim and I the tour on the way to Prague. We didn't get a chance to contact you for the next two days, but your referals for dinner were much appreciated! We have friends who will be visiting your lovely city in November and we will be sure to give them your information should they need a driver while they are there. Once again thank you for your courtesy and kindness, and when we visit again we will be sure to look you up. Donnie Cox and Kim Cooley

Rating: out of 5